Travel secrets / quirks:
There's a lot of assumptions made about a 27-year-old who has visited every country! People think that having been to every country means being everywhere and having done everything. This simply isn't true. There is so much remaining on my travel to-do list. There are also expectations of how I travel. I don't stick to one type of traveling, I'm not always luxury and I'm not always budget, I don't always go super slowly or super-fast, each trip and each experience is different!
Over the years, some things about my travels and my approach to travel has surprised people. So I thought I'd put them in a list here – my travel secrets / travel quirks.
#1: I love airplane food.
It's almost sacrilegious to not moan about airplane food. Whether they are on planes once a year or twice a week nearly all travelers complain about the food served. It's tasteless, it's repetitive, it's unhealthy…on and on. But I love it. I almost always eat everything! I know it's not fantastic (though sometimes I'm surprised – especially on Etihad) and definitely not healthy (always including dessert!), but I can't stop myself. I guess it's because I have nothing better to do while sitting there, or that it breaks up the monotony of a flight, but I always look forward to meal service. Sometimes this quirk can be truly upsetting when I'm on a long journey with 2 or 3 flights and eat a meal on each one of them (and at the lounges in between!).
#2: Yet to rock the boat.
I've never done a cruise! The closest I've gotten was a 3 day ferry from Japan to China in 2004. I've also done a handful of shorter ferries – from Estonia to Finland, Sicily to Calabria, and from Belize to Guatemala, as well as river border crossings into the likes of French Guiana and Botswana. But never a full cruise. One with pools on board, big parties, and fun excursions into new ports of call each day. Most people say that I'll do one when I'm older – but I want to do one now! I'm just looking for the right excuse.
#3: Unexplored neighbors.
Two of my least explored countries are the two closest to my own country: Canada and Mexico. Canada I've actually only been in, around Niagara, for a day! Mexico I stayed in for a week during high school for a class project on marine biology – but only up north in Sonora. I have SO much to see in each of these countries, and a serious desire to visit more. I especially want to see Canadian cowboys in Calgary and immerse myself in Mexico City! I just haven't lived close the past 6+ years, but that's not a good enough excuse….
#4: One-night stand hostel rule.
Because I'm young people assume that I'm constantly couch-surfing or staying at hostels. In reality- I've NEVER couch-surfed and I very rarely stay in hostels. In fact, I only ever stay in hostel for 1-night at a time, and only if I have a very early flight or land quite late. In those cases, I just need any be to sleep in. The thing I have against hostels isn't the crowded dorms or noisy neighbors (I can sleep anywhere and through anything). My problem is that I like to have my own space to relax in after a long day of touring. I'm actually quite introverted and prefer my own time. I have had fantastic hostel experiences with fun nights of new friends and great parties – but I'll stick to the one-night rule.
#5: My uniform.
My most observant of followers on Instagram have called me out on the absolute truth that I'm almost always wearing the same thing in my photos. My plain white t-shirts are the core of the minimal clothing I bring on trips. In fact, of the 8 or so shirts I have, 3 are just white t-shirts! I also am somewhat constantly wearing football shorts (usually Real Madrid ones I got for $5 in Tanzania) or my favorite torn sweatpants a designer in Kenya made for me (yes they were torn when I got them…). Since I carry so little it makes sense that I'm endlessly repeating outfits, but I do agree that my love for these simple items is excessive.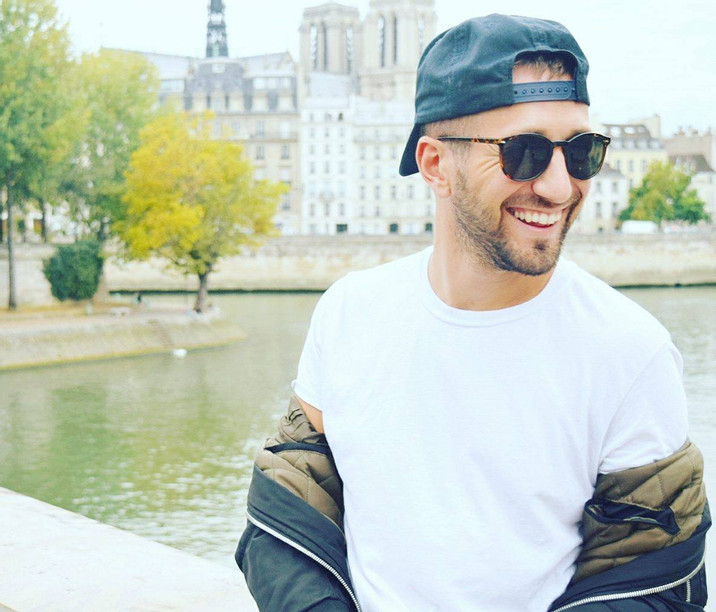 #6: Money memories
It would've been fun to have one thing from all 193 countries. A magnet or piece of art or something, but again with the packing it's essentially impossible. In fact, I have enough trouble dealing with random things I'm gifted along my travels (always super grateful but always confused as to how to carry it!). What I have done in almost every country is to keep some currency – either bills or coins. Of course, many countries share currencies so I don't have 193 different kinds, and there are a few cases where I've forgotten or had to use everything I had to pay the final taxi to the airport. I do still have a great collection and my parents have presented it nicely to look like a bouquet of flowers.
#7: No guide, no problem
I constantly get asked to give recommendations on what guides I used in different countries, or what agencies I used to go. But the truth is, I very rarely have used guides and only employ travel agencies when it's an absolute must. Many people love to be met at the airport, toured around for days, and then dropped off – never leaving the site of their guide. In fact, I've only had this 24-hour a day service 4 times: in North Korea (required), Iraq (highly recommended), Somalia (again recommended), and on my first trip abroad to Japan and China with my father. On some occasions I've had a guide for a specific day tours, but that's not the same as the guide as constant companion. This lack of paid guides doesn't mean that I'm not often guided: I've been with local friends from boarding school or work in over 100 countries. Maybe I'm missing out, I'm sure the guides are full of information and provide tons of assistance, I just prefer engaging on my own.