In many ways, I grew up as a traveler in Latin America. When I was in boarding school and university and I first started making many trips abroad I traveled to Latin America often because of its proximity to the United States. Between 2008-2012 I made six trips to the region, culminating in a seven week stay in southern Venezuela. But in the now almost five years since then, I haven't been back.
I've been close, teasing myself with a short stay in the Dominican Republic and visits to the quasi-Latino neighbors of Suriname, Belize, and some West Indian Islands. Of course, those visits never had the feeling of proper Latin America. The memories of being fresh and excited in a culture that is both familiar and so different didn't come rushing back – until today. Today it was real- I was in the thick of it. I was back!
From the second I entered, crossing the empty border by foot I began remembering why I love this part of the world so much. The sun was shining, I could smell tortillas cooking, hear the Spanish being spoken loudly with emotion, and there was color – so many colors!
The day was perfect regardless of where I was, but being back in Latin America gave it all an extra glimmer. I filled the day with things I love to do when traveling: transit, exploration, activity, food, and language. Starting with the extended journey – first a long walk, then a one-hour ferry, a too-fast mini-bus (collectivo), and finally an old repurposed (though not refurbished) school bus. Then I was at my destination – the small town of Omoa, Honduras.
I came here because of the proximity to the beach and the famous San Fernando de Omoa Fort. Add these things to the fact that I'd prefer to overnight in this quaint spot rather than the nearby San Pedro Sula, also known as the most dangerous city in the world, and it was the perfect stop. Yet it became so much more.
First, when arriving into the town, I did not expect the beauty. I was stunned at how picturesque the low Meredon Mountains were in the distance and how calm the Caribbean Sea was along the town's edge. I could not wait to see more.
I walked aimlessly from the bus station, no reservation or even the name of a hotel in mind. I was lucky though and found something nice and got settled into the cute little guesthouse. I changed out of my filthy travel clothes and hopped on a bike to be active and explore. My first stop was the fort. I made my way all around the exterior, taking pictures of its imposing heights. Then I wandered through some residential neighborhoods, enjoying the dirt paths and getting purposefully lost, knowing the sound of the sea would guide me back. Finally, near sunset I came out to a clearing by the ocean and was shocked – I was greeted by one of the most beautiful skies I've ever seen. I love skies. I take and post way too many sky photos but, this was special. Over the next two hours, I just moved slowly down the shore, never taking too long between glances at the ever-changing sky.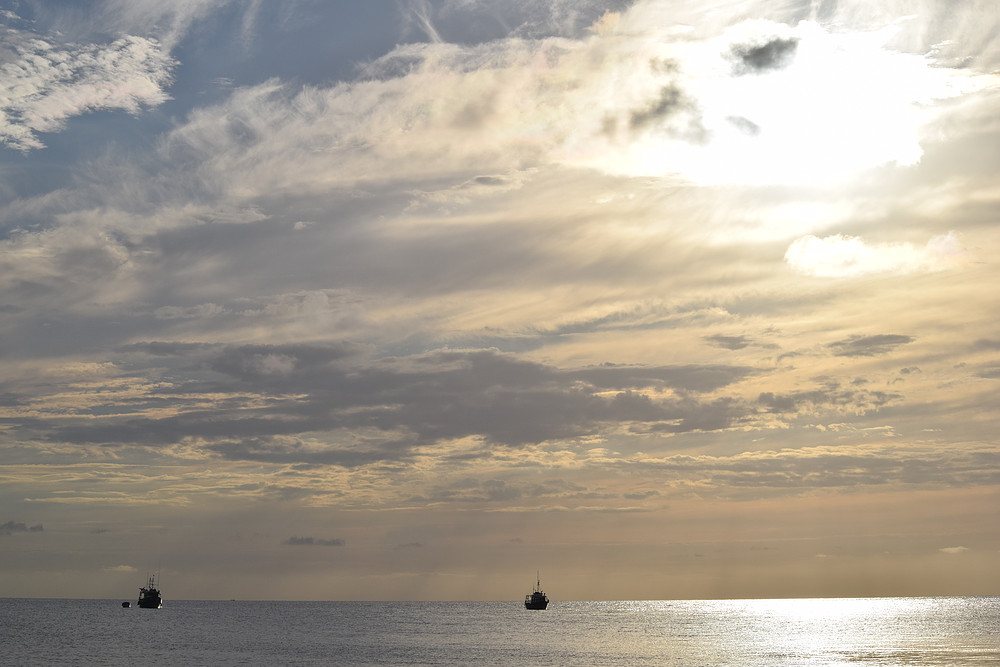 While watching, I treated myself to another highlight of Latin America- the food. I first got a minuta (shaved ice) with strawberry, lemon, and pineapple syrups. With the treat in hand, I made my way to the end of a pier and sat with the fishermen as they cut up their catch – part for bait, part for ceviche.
When it was too dark to make any more photos, I continued the simple but yummy culinary journey. I got two ears of grilled corn before making my way to a tiny market for some local veggies. I brought them back to the guest house- whipped up a little salad- and wound down from the long but gorgeous day.
Not only did I see and eat so much, but the day was conducted all in Spanish! Of my foreign languages, my Spanish is one of my best, but not my most used. Now that I'm beginning a month-long trip in Latin America, I'm so excited to practice and better it! Today was a good start. I never felt lost in conversation and could get my point across to all those I encountered. We'll see how it improves in the coming weeks.
Overall – what a perfect start to my return to Latin America. I've always loved the culture here – the broad Latino feeling that unites all the countries as well as the unique aspects of each. I'll be in a handful of countries this month and I'm looking forward to seeing how each is similar and how they diversely embody the Latino spirit.
I hope that I have many more days like this one and that I leave the region even more in love than when I arrived!
I'd love to hear about your time in that part of the world.
Sal Lavallo